New England Outdoor Bucket List: The Best Hikes and Views in the Northeast
by Hartley Brody
If you love spending time outdoors, New England is a great place to be. There's beautiful scenery across the region and terrain to challenge anyone, regardless of your hiking level.
While there are tons of opportunities for short, local hikes within a 30 minute drive of most communities, there are also some world-class adventures right here in our own backyard. People travel from far and wide to check out some of these outdoor opportunities.
I've put together my own "bucket list" of hikes for New Englanders. Some are much more challenging than others, but they're all super rewarding in their own way.
I tried to organize the trips from easiest to hardest, so be sure to scroll to the bottom if you're more experienced. Make sure you do some research before you set out on any of these hikes. If you feel like I left something out, let me know in the comments!
Mt. Wachusett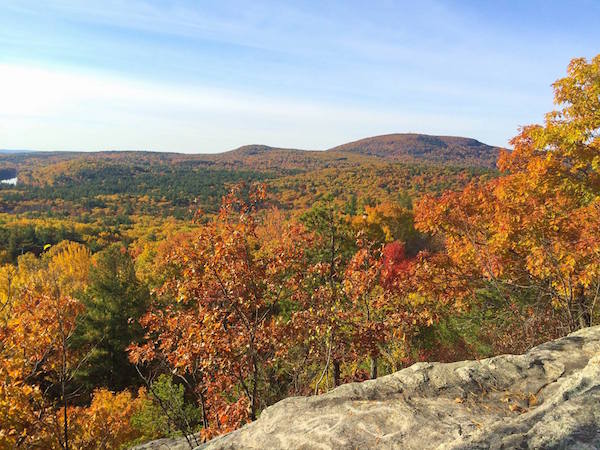 If you live in the Boston area, this is a great local hike. At 2006 feet tall, Mt. Wachusett is the tallest point in eastern Massachusetts. It's also easily accessible from Boston in the winter via the ski train.
The mountain hosts a ski area in the winter, so there's a big lodge and a large series of well-maintained trails. It's a great starter mountain for people who are new to hiking in the area. It only takes an hour or two to reach the top. Beware of crowds in the late summer and early fall.
Mt. Monadnock
Mount Monadnock is another tourist peak, and allegedly "one of the most frequently climbed mountains in the world" according to Wikipedia, so beware of the crowds. Like Mount Wachusett, there are tons of trails in the area and it's an easy day hike to the summit.
It dominates the skyline of southern New Hampshire and is visible from many other summits – including Mount Wachusett's. Mount Monadnock was mentioned extensively in the writings of Ralph Waldo Emerson and Henry David Thoreau, if that's your thing.
Cadillac Mountain in Acadia National Park
When the sun rises on the United States each morning, the peak of Cadillac Mountain sees its first rays.
Acadia National Park was voted to be America's Favorite Place by Good Morning America viewers – and for good reason. The foliage in mid-October is incredible. Make sure you catch it early in the day when the sun is just coming up. Picture via Acadia Magic.
Blue Hills' Skyline Trail
A 30-minute drive south of Boston, many people dismiss the Blue Hills as only having short, uneventful day hikes. But the Skyline Trail offers some challenging terrain with rewarding views of the city.
Distance and elevation estimates vary due to the many various combinations of routes through the park, but one-way along the Skyline Trail is about 9 miles long with 2500 feet of elevation. Double that if you want to make it back to your car and you're looking at a very serious day hike.
The park is a favorite spot for trail runners. Some trails in the area support mountain biking and horseback riding. Watch out for people flouting the leash laws and letting their dogs run around. View of Boston via Cheryl Suchors.
Knife's Edge trail on Mt. Khatadin
Knife's Edge Trail is easily some of the most dramatic scenery I've ever hiked – I felt like I was in a Lord of the Rings movie the whole time. The ridge trail descends from the top of Mt. Katahdin, the northern terminus of the Appalachian Trail. It may take a long day of driving to get up to Baxter State Park in northern Maine, but the hike itself is easy to fit into a single day.
The Knife's Edge trail gets its name from it's distinctive shape – tall and very thin with sheer cliffs on both sides and harrowing sections of scrambling. The view are amazing, if you can remind yourself not to look down. As with all ridges, beware strong winds and be prepared to cancel your trip at the last minute if conditions aren't right.
Franconia Ridge Loop
Franconia Ridge Loop offers a gorgeous but challenging day hike for those who aren't scared of a bit of elevation. At 8.9 miles long with 3900 feet of elevation gain, this loop is a good step up for newer hikers looking to push themselves.
The trail climbs quickly to the tree line on Mount Lafayette, offering awesome views along the entire ridge – but beware bad weather, the trail is very exposed and you don't want to get caught out on it in a storm or high winds.
Winter Mt. Washington Summit
At 6,288 feet tall, Mt. Washington is the tallest peak in the northeast. It's also home of World's Worst Weather, and the fastest recorded wind speeds (231mph!).
Reaching the summit in the winter is a serious undertaking – I've attempted it twice in the winter and had to turn back both times due to heavy snow and 70mph+ winds. A winter summit will likely require crampons and ice axes – and the skills to use them.
If you don't have any winter mountaineering experience, Northeast Mountaineering has some terrific guides, and a conveniently located bunkhouse for you to crash at before or after the all-day effort.
Midstate Trail Thru Hike
When people talk about "thru hiking" a trail from end-to-end, they usually conjure up several-month-long trips on the Appalachian Trail or Pacific Crest Trail. But what if I told you you could easily bag a thru-hike in less than a week?
The Midstate Trail is 92 miles long and bisects the state of Massachusetts. The trail isn't very remote, and the terrain is pretty tame, so it makes for a good beginner's thru hike for someone just wants to keep putting one foot in front of the other for a week.
Someone looking for a bit more of a challenge might take a look at Vermont's Long Trail. At 272 miles long, The Long Trail is much more rugged (and much more muddy) than the Midstate Trail - plan about 3 weeks to complete it.
Presidential Traverse
The Presidential Traverse is also known as a "Prezi" or "Prezi Traverse." At 23 miles and 9,000 feet of elevation gain, this a very serious hike that goes over 7 peaks, including Mount Washington. Almost the entire route is above tree line and you are rewarded with some tremendous views on clear days. But beware strong winds or the unpredictable storm systems that come in at elevation.
Elite hikers will head out before sunrise and complete the loop in a day. I completed it over two days with some friends a few months ago – dropping off the ridge and staying at the RMC's Perch shelter – but would love to try it in a single day. Make sure you're in great shape, and consider brining along some hiking poles to help with the steepness and boulder-hopping.
Pemi Loop
Backpacker Magazine calls it one of America's hardest day hikes – and I'd buy anyone a beer who is able to complete the entire thing in a day. At 32 miles and 9,000 feet of elevation, the Pemi Loop is like a souped-up version of the Presidential Traverse.
The loop encircles the remote Pemigewasset Wilderness and is rocky and steep pretty much the whole way. The AMC maintains Galehead Hut at about the midway point, so I'd likely break this hike up over two days to save my ankles and knees from the pounding. Image via Northeast Hikes.
100 Mile Wilderness
The 100 Mile Wilderness is a section of the Appalachian Trail in northern Maine that is one of the most remote stretches of trail in North America. With that remoteness comes quiet, unspoiled campsites and calm, blissful serenity.
There are only a few logging roads that cross the wilderness, and cell reception is very limited, so you're essentially on your own the entire time. Since there are virtually no resupply points, you have to carefully plan your meals so as not to carry too much weight, while also not going hungry. Beware of mud and thick swarms of black flies if you go too early in the season. Sign picture via sectionhiker.
---
I've completed about half of this list so far, and am hoping to tackle 1 or 2 more items this year. Some hikes are pretty serious, but others are fun day hikes that would be super rewarding for a beginner.
From the alpine zones of New Hampshire to the remote woods of northern Maine, New England has some pretty epic hikes. No matter what the season is or how strong of a hiker you are, you'll find plenty of great adventures within a few hours drive.
Be sure to send this list to your friends so you can all start planning your next bucket list adventure! Drop me a comment below if I missed your favorite spot.